We recognize that all our patients are unique and deserve to receive dental care that reflects their individual needs. Our experienced and talented dental team is committed to working with you and your family to create a comfortable, stress-free, and rewarding dental experience every time you visit our practice.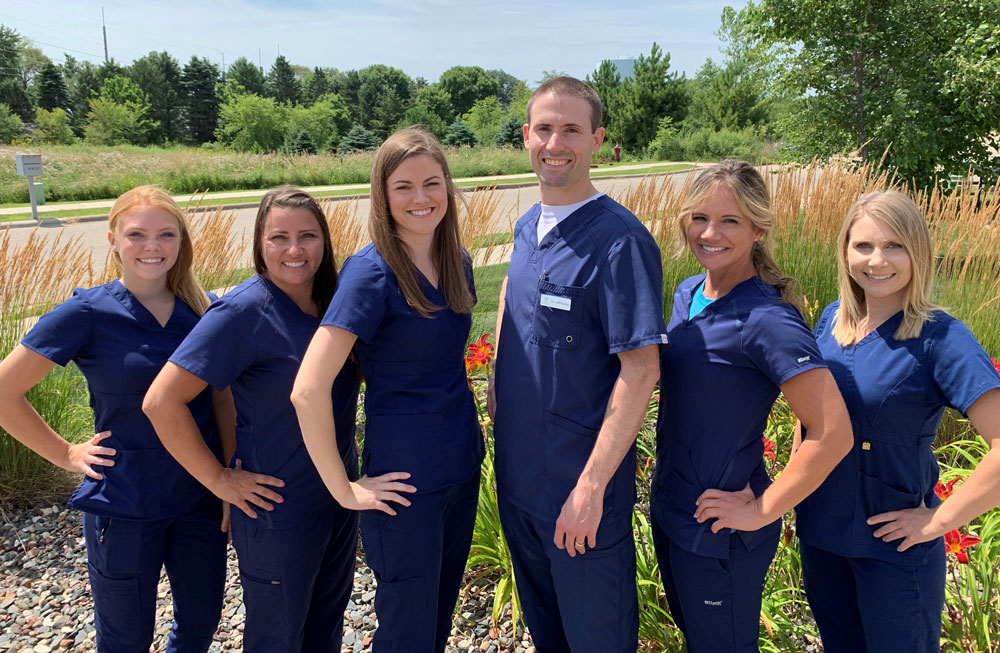 We are pleased to welcome you and your family, and we look forward to working with you.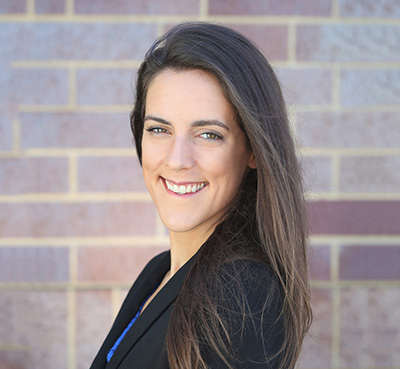 Erin
Office Manager
I have had extensive dental work done over the years, and I know how difficult it can be for children and adults to come into the dental office. I enjoy seeing patients, especially those who came in anxious, leave the office with a smile on their face, having enjoyed their time here.
Erin is a graduate of the University of Minnesota with a B.A. in psychology. Since she has worked in customer service for more than ten years and most recently in childcare, it is hard not to get along with Erin. She finds it rewarding to be a part of this dental team and help people get the care they need.
Erin enjoys spending time with her friends and family, painting, and traveling. She likes to collect rocks and seashells when she travels. "The rocks and seashells usually disappear after my nieces and nephews come for a visit. That's probably why they keep asking to come visit me!"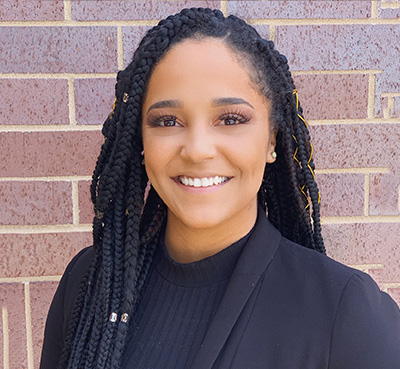 Zoe
Patient Care Coordinator
My favorite part of my job is being able to get to know patients and having fun with my coworkers. They always put me in a good mood!
Zoe makes sure our patients receive the best care possible when it comes to the front desk. She schedules appointments, coordinates treatment plans, and handles insurance for patients. Zoe enjoys working at Lakeville Advanced Dental Care because it is such a family-oriented place that is committed to helping everyone grow. Zoe is an amazing part of our office family!
Zoe has a beautiful son who is one of the happiest and brightest little lights in her life. She loves hiking and spending time outdoors and is equally passionate about writing poetry and song lyrics. She spends all her spare time making music and singing at open mic nights!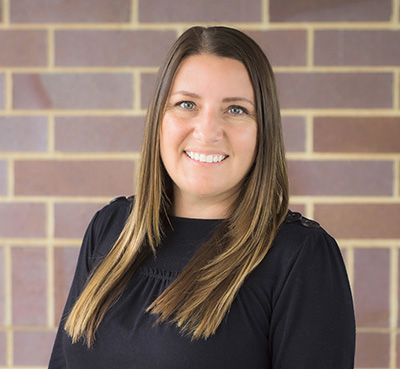 Joey
Clinical Director
I value each of our patients and love to learn who each person is by hearing about their families and enjoying their stories. I consider them to be my dental family and care deeply about the health of their smiles! The staff here is amazing and we all love and support one another!
Joey, a certified dental assistant, has been part of the field since 2004. She works chairside: assisting Dr. Kohler with all procedures, including oral surgery and sedation. She also works in our lab, where she makes clear orthodontic aligners, and with Dr. Kohler on the CEREC® machine, where she crafts crowns and bridges.
Outside the office, Jolene loves quality time with her two teenage daughters. She also loves to spend time on the lake kayaking or paddle boarding, reading, watching movies, and cheering for the Vikings and the Twins!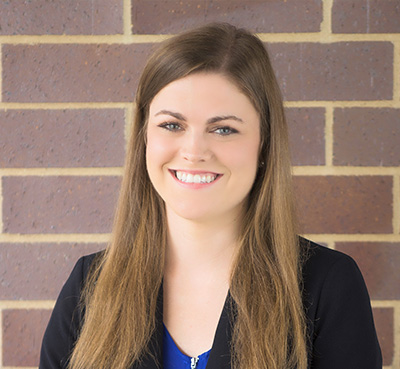 Mary
Dental Hygienist
I absolutely love helping people and getting to know my patients. I enjoy seeing entire families and building lasting relationships with everyone, while helping them improve and maintain their oral health. Seeing a clean, happy smile at a recall visit makes my day!
Mary holds a degree in dental hygiene and has worked in the field since 2012. She strives to keep each patient comfortable during their experience: offering gentle and thorough cleanings and taking X-rays. Much of her day is spent educating patients about oral health, proper home dental care, and establishing healthy habits, for a lifetime of healthy smiles.
When she's not at work, Mary enjoys baking and cake decorating. She loves the Minnesota summers and time spent outdoors, especially paddle boarding and kayaking. She also enjoys time with her boyfriend David, and being with her family, including her seven nieces and nephews. She is known as the fun auntie!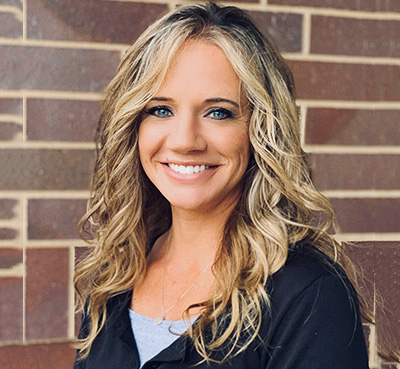 Mindy
Dental Hygienist
I like getting to know my patients on a personal level, building trust so they understand I care about their well-being. With trust comes an openness to listen to the education I offer and a willingness make changes in their home dental hygiene care. I love to talk, laugh, and motivate people to love their smiles!
Mindy has worked in the dental field since 2005 and holds a degree as a dental hygienist. She works closely with her patients to provide preventive and maintenance care, including painless cleanings. With her focus on patient education and motivation, she helps people take control of their oral health.
Beyond the office, Mindy's family — her husband and three active children — keep her on the go. The family loves to camp, hike, fish, hunt, and play sports. Mindy is very active in her children's lives to support their interests: all three kids play hockey and lacrosse, so she coaches boys and girls lacrosse as well as serves on the Rosemount Youth Lacrosse Board. Even with her busy life, Mindy finds time for yoga, kayaking, and running ... all of which are great stress relievers.
Karissa
Licensed and Certified Dental Assistant
The best part of assisting is being able to give someone their smile back and helping my patients overcome dental anxiety.
Karissa is originally from Northfield, but will soon call Elysian home. She started her dental assisting degree program at Herzing University in 2012, and completed it in 2018 after receiving a kidney transplant and a new lease on life. Karissa originally started here as an extern, and we loved her so much that we asked her to stay! Karissa has a huge passion for paying it forward. She has volunteered for Mission of Mercy in Minneapolis and with oral surgery at Hope Dental Clinic in St. Paul.
Between Karissa and her other half Steven, they have four children. In her spare time, Karissa loves being on the lake, going to the cabin, watching hockey, basketball, and baseball games, riding motorcycle, and taking family trips to new destinations.
Kate
Certified Registered Nurse Anesthetist
I LOVE being able to take away a person's anxiety through sedation. I think of myself as a guardian angel, looking out for each person I care for while they are sleeping through their procedure. When anxiety is a barrier to an adult or child receiving the care they need, I love having the ability to take away that fear, let the person be completely asleep, and have them wake up with all their dental work done!
Kate's initial degree was in mathematics. She returned to school for a second degree in nursing and spent several years helping children and families in a pediatric intensive care unit. She returned to school yet again, this time for three years of training to receive her degree in nurse anesthesia. At Lakeville Advanced Dental Care, Kate administers IV sedation to keep patients asleep, safe, and comfortable during various procedures.
When she's not keeping our patients at ease, Kate is kept busy with her family. She and her husband have four beautiful and active children. The family loves exploring the beautiful outdoors, hiking, and swimming. Kate enjoys practicing yoga, playing family board games, and watching sporting events, too.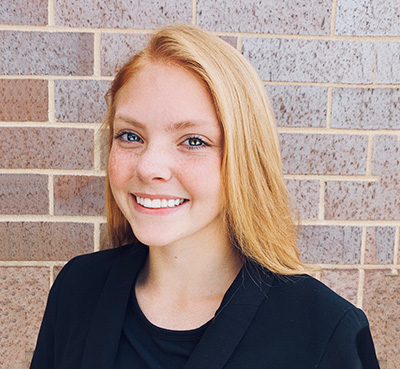 Katie
Clinical Assistant / Sterilization Tech
My mother has worked in the dental field for a long time, so I've been surrounded by it most of my life. Being exposed to great dentistry for so long has given me a passion for helping others have the same positive experiences that I've had.
Katie recently joined our team in the clinical area, and is responsible for maintaining our sterilization standards throughout the office. She enjoys being useful to the other members of our team, and is a fun person to have around the office.
Katie is currently at Farmington High School where she is a 4.0-GPA student and runs track. She is the daughter of Joey, our clinical director, and loves working with her mom. In her free time, she loves to be outside adventuring on the lake, hiking, and hanging with friends!